Basic Information on Moving Head For Layman
2015-12-25 Post By: Longmangroup
What is moving head? First of all, it is an intuitive naming once you know what it is. Moving head, its full name is moving head lights, as described on wiki, also known as intelligent lighting, automated lighting, or moving lights. The intelligent lighting and automated lighting are more academically definition, most people, include professionals, stage designers, businessmen and customers, are much more willing to use moving lights or moving head, in oral expression even call it mover.
I am here just to slightly describe the basic information about what and how the moving lights look like and work for quickly learning. If you feel completely interest in this lighting equipment, you can check this elaborate answer on Quora about every detail of moving head.
Let first look at what does it look like, the actual product below. You could see the rotatable part, which connects the LED lamps and the base plate.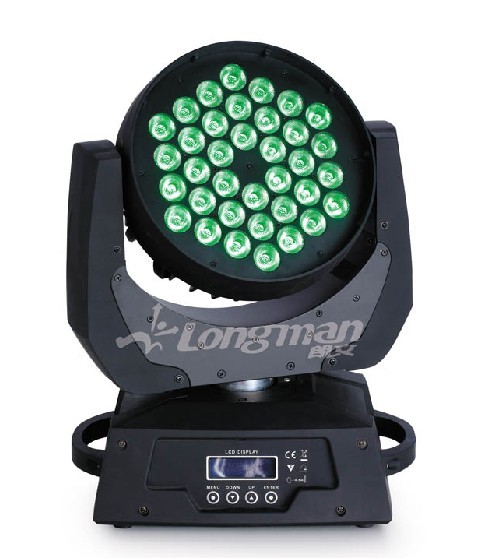 Then we look at the real stage effect when lit move lights. The picture below shows a band was playing music on stage and beams and lights are amazingly distributed over the stage.
This picture is from wiki, owned by Manningmbd
Now there are few things about moving heads for layman to know in short time.
Rotation Angles
Movers can move around, normally 360 degrees from left to right and 270 degrees from top to down.
Light Sources
Almost all those lanterns are LED bulbs installed for the huge advantages of LED technology. LED moving heads are more power energy saver and last longer.
Pattern and Gobo
A piece of beam is just a piece of beam, but with the help of patterns and gobos, the lights suddenly become much fun to apply and display. Gobo is a dark plate acts like a visor except let some amount of lights pass through to form shape.
Controlling
The standard protocol for controlling static lights and moving lights are both DMX512.
Installation
Hanging on the front truss or placing on the floor of stage.
Application
For any size of stage play or studio, it has became the most popular and essential lighting equipment for most of shows.
Where to Buy and What's Price
Fair question, chauvet and pssl are fine, but I highly recommend check and buy them at longman stage lighting, which is a big manufacturer in China and have attended many lighting exhibitions. As the price, it can be differed from 200 dollars to 600 dollars. So far, there are four models of moving heads you can choose from longman, Ledmemove F1, Pointy 600, Lorentz and Loby 600.